Fall Fun in Greater Cincinnati
Written by Erin Michel, graduate assistant for The Graduate School.
You're starting to notice that familiar crisp chill in the air as you stroll across campus, and with a jolt you realize that it's actually fall. In fact, you've been so caught up in classes, papers, and midterms that the season is already half over. You haven't even gotten the chance to consume anything remotely pumpkin-spiced! It's almost Halloween, and you need to take some time to celebrate this ever-so-sweet and spooky season.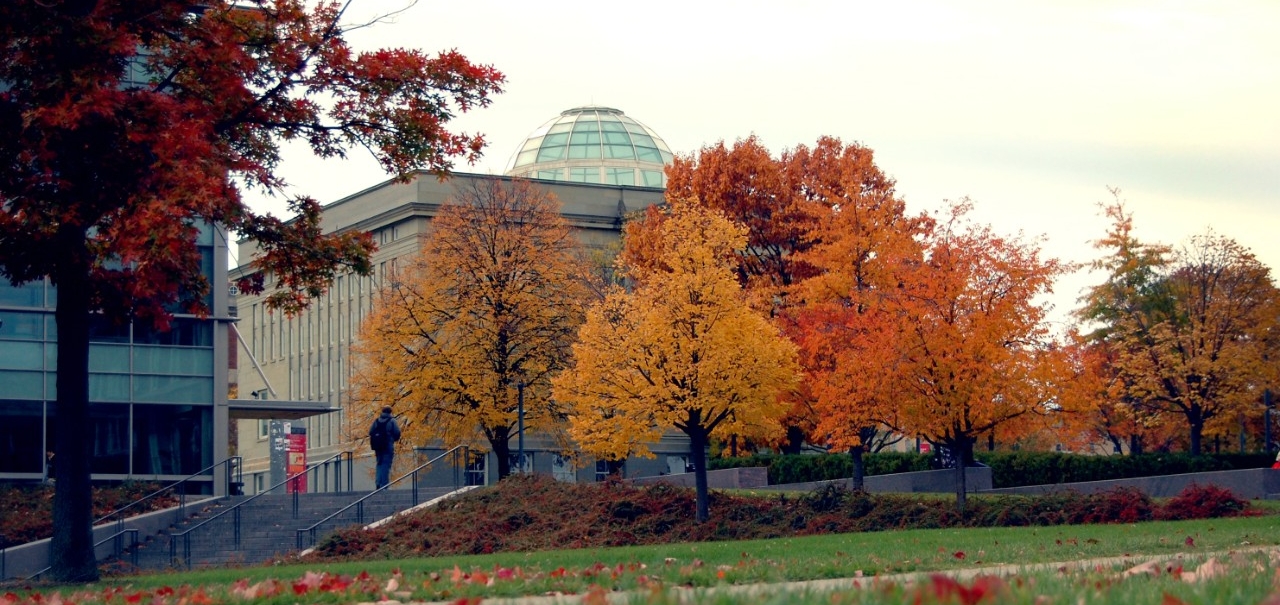 Luckily, Greater Cincinnati is packed with a range of unique fall events for both the brave and the faint-of-heart. If thrills and chills appeal to you, check out some of the area's best haunted attractions, the Dent Schoolhouse and Newport's haunted dredge boat, The USS Nightmare. Or, if you also enjoy getting your adrenaline fix hurtling through the air on a roller coaster, check out Kings Island Halloween Haunt. Every weekend night through October 31st, the park transforms into a giant outdoor haunted house, complete with immersive haunted attractions, live performances, and "scare mazes." 
Some of us prefer to keep our spooks contained safely behind a screen. Newport-on-the-Levee is offering a free outdoor Halloween movie series—October 21st will be "The Addams Family," and October 28th will be Halloween favorite "Hocus Pocus." Viewers are encouraged to bring their own seating and blankets. For a more vintage thrill, the Holiday Auto drive-in movie theater in Hamilton will be screening horror classics throughout October with their film series Terror at the Drive-In. Specific flicks include "Halloween," "Candyman," and "Jeepers Creepers." 
For who prefer some more wholesome autumnal fun, southern Ohio offers a wealth of pumpkin and apple festivals. Blooms & Berries Farm Market in Loveland offers hayrides through their pumpkin patch, a 5-acre corn maze, a gorgeous sunflower field, a beer garden, and lots of tasty fall treats. If you're anything like me, the words "caramel apple cider ice cream float" are enough to get your taste buds dancing. Some other great options include Brown's Family Farm Market in Hamilton and Irons Fruit Farm in Lebanon, which offer pumpkin and apple picking, hayrides, and many other activities. For a more extensive list of fall festivals, check out this article from CincyBeat. 
If you're willing to drive a bit farther, the Circleville Pumpkin Show can't be beat. In previous years, over 400,000 attendees have flocked to this tiny community of 12,000 to enjoy events such as professional pumpkin carving demonstrations, a Miss Pumpkin pageant, pumpkin pie eating contests, a pet parade, and lots of live music. Most popular, though, is the largest pumpkin competition—last year's winner weighed in at a whopping 1,755 pounds. And, appropriate for Halloween, the town of Circleville has its own creepy history. In the 1970's, a still-unidentified person (known as "The Circleville Letter Writer") sent hundreds of menacing missives to townspeople containing threats to expose their secrets, which the writer somehow knew about in detail. Chilling! For more information on this mystery, check out this Columbus Dispatch article.   
Whatever type of fall fun you're looking to enjoy this October, rest assured that it's not too late. From real-life mysteries to scary movies to giant pumpkins, the Greater Cincinnati area has got you covered. Being a graduate student surely is hectic, but you deserve to take a break, get cozy, and enjoy some pumpkin spice.