Bearcat's Guide to the Calm App
Written by Erin Michel, Graduate Assistant for the Graduate School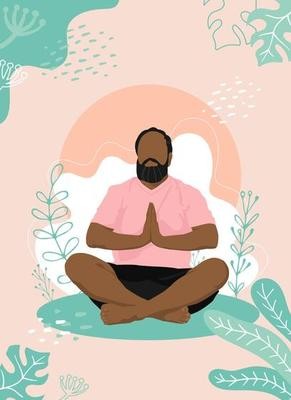 On October 11, the University of Cincinnati and Student Affairs announced a new mental health resource for students—a one-year free membership to the Calm App, a mobile mindfulness library of guided visualizations, movement exercises, soothing music, sleep meditations, personal development courses, and more. This investment is representative of a larger commitment to mental health in higher education and an attempt to equip students with tools that have been shown to reduce stress and anxiety and promote physical and mental wellness. The app has something for everyone, even those who have never tried meditating before; among the vast library of one-time and multi-session programs is a 7-day beginners meditation course as well 21-day and 30-day options, aiming to build a solid foundation of mindfulness skills as well as dispel myths that might serve as roadblocks to fully embracing mindfulness practice. As Calm expert Jeff Warren says in the "Start Here" meditation within the app, "Everyone can meditate. You don't have to stop your thoughts, or make some special thing happen. In fact, the exact skill that we learn in meditation is the skill of being okay with what's happening in the moment." Meditation isn't about suppressing thoughts, or striving to be a "blank screen," but rather finding peace, acceptance, and awareness in each moment. Read on for a guide to get the most out of your Calm subscription.  
The premium version of the app (again, free to UC users for one year) contains more than 700 guided meditations, ranging from 3 to 30 minutes in length. Meditations range from general mindfulness practices (both single sessions and multi-day series) to specific meditations aimed at relieving various emotions or aiding users in coping with difficult situations, such as "Managing Anxiety on the Go," "Caring for Your Grief," "Calming Flight Anxiety," "Forgiveness," and a whole section of work-related meditations, such as "Pre-Meeting Meditations." "The Daily Calm" is a series of ~10-minute meditations, newly added every day, which guides listeners through visualization and muscle relaxation. To get the most out of the app, it is recommended to use meditations both proactively and reactively; that is, try to build mindfulness into your daily or weekly routine and while also employing it as a coping skill to soothe difficult emotions in the moment that it's needed. Research has linked habitual meditation to improved mental and physical health outcomes, including reductions in depression, anxiety, stress, insomnia and chronic pain, among others.  
Although guided meditations are what Calm is most known for, the app offers much more to help users pursue daily peace. The "Wisdom" section includes motivational recordings to teach coping skills, offer inspiration, and equip users with emotional management skills that stretch beyond mindfulness (although mindfulness elements are often infused throughout). Particularly popular is "the Daily Jay," a series with new episodes daily where former monk and current "purpose coach" and author Jay Shetty (whose voice is indescribably soothing) offers life lessons grounded in real stories. One recent episode dissected the lesson of the first individual to run a 4-minute mile, a historical feat previously thought to be impossible, tying the story to broader ideas of hope, optimism, and the limits we create for ourselves. Other offerings include masterclasses such as "Radical Self-Compassion," "Breaking Bad Habits," and "Mindful Eating."  
The Movement section of the app contains video demonstrations of stretching and movement exercises, drawing inspiration from yoga poses and general stretching exercises. "Daily move" videos are available for habitual users as well as single session offerings to target specific parts of the body that might need a little TLC, such as neck/shoulders and back/spine. Videos are short, mostly under 10 minutes, allowing for bite-sized bits of intentional movement and stretching that can easily be fit into a workday or between classes.  
Quality sleep is a key ingredient to overall wellness, yet unfortunately insomnia is rampant among college students, with over 60% reporting poor sleep quality according to a recent study. Calm has a range of "sleep stories" where individuals with soothing voices (including celebrities such as Harry Styles and Matthew McConaughey!) relate a meandering, peaceful tale designed to lull you to sleep, much as a parent reads to a child at bedtime. Users can set a sleep timer to shut off the story after a specific amount of minutes if they would like or let the recording run its course. Other categories within the sleep section include "nap stories" and ASMR recordings.  
Calm has two sections, "music" and "soundscapes," that are designed to provide peaceful background ambient noise for studying, relaxing, or sleeping. Music is largely instrumental, including electronic and acoustic tunes as well as curated playlists from your Calm favorites such as Jay and Jeff. Additionally, the "Sleep Remix" series is described as "beloved songs deconstructed and designed to set a tempo for heading to bed and then gently fading you to sleep;" popular remixes last approximately 1 hour each and include "Golden Hour" by Kacey Musgraves and "Circles" by Post Malone.  
One of the most difficult aspects of integrating a new skill into your life is consistency and translating a practice into a habit. Fortunately, Calm has strategies for routine built into the app itself, including the capability for users to set up personalized notifications as well as track their minutes spent meditating and view these patterns over time. Additionally, users can enter "check ins" where they choose an emoji to represent their mood, adding tags or short notes to provide context to the check in. By looking at the time spent using the app in conjunction with the check-ins, users can learn about the impact of mindfulness on their moods and recognize patterns regarding emotional fluctuations.
To access your free 1-year Calm subscription, visit this link and create an account with your UC email address.